City Tours
Guided tours Stralsund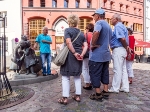 The Tourist Information Office of the Hanseatic City of Stralsund offers public guided tours of the city from April to October and also in December.
Historic Centre Tour (April to October)
Night Watchman Tour (May to October, December)
Culinary City Walk (June to October)
INFORMATION
Tourist Information Office Stralsund
Alter Markt 9 | 18439 Stralsund
Phone: 0049 (0) 3831 24 69 0
Fax: 0049 (0) 3831 24 69 22
Email: info@stralsundtourismus.de
www.stralsundtourismus.de
City Tours Wismar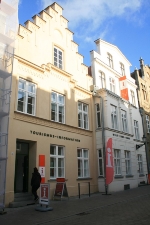 All year long the Tourist Information Guides of Wismar lead their guests through the streets of the historic city.
In the footsteps of local history on a world scale
Störtebeker shows guests his Wismar
Night watchman - Evening guided tour of the historic centre of Wismar
SOKO Wismar – A city tour in the footsteps of the popular TV series
INFORMATION
Wismar Tourist Board
23a Lübsche Straße
23966 Wismar
Phone: 0049 (0) 3841 19 43 3
Phone Guided Tours: 0049 (0) 3841 225 29 121
Fax: 0049 (0) 3841 225 29 128
Email: touristinfo@wismar.de
www.wismar.de
Furthermore, both Tourist Information Offices offer comprehensive holiday services from booking accommodation right through to group travel deals, souvenirs and information.