World Heritage Exhibition Stralsund
As historical as a term like 'heritage' might sound, thanks to modern technology, heritage is right at your fingertips in the Stralsund World Heritage exhibition. Whether with globes, photo exhibitions, animations, films, illuminated showcases or media tables – you can experience World Heritage in a lively and entertaining way.
One of the reasons that the historic centre of Stralsund was inscribed on the UNESCO World Heritage List was for its virtually unchanged preserved medieval town plan. Our popular animated film 'Why World Heritage?' shows the town plan over the course of time and tells tells stories of the city's past.
Our younger visitors can enjoy and exciting game of treasure hunt in a large outdoor sandbox. Armed with brushes and shovels, these 'young archaeologists' go in the search of the buried city of Stralsund.
Whether before or after a long stroll through town, a visit to the World Heritage exhibition will complete the picture of Stralsund. Anyone who drops in to the centre for a half hour will come away with a lot more knowledge of this lovely Hanseatic city.
Picture Gallery (10 pictures)
Hackertscher Wallpaper room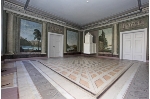 Discover a unique artistic jewel on the first floor of Olthof's Palais, where from 1762 to 1765 the landscape painter Jacob Philipp Hackert designed wallpaper.
Due to special indoor climate conditions for the protection of the wallpaper, daily opening of the hall is not possible! Guided tours are run every Thursday at 16:00 or by prior request by calling 0049 3831 252 310.
Visitor Information
Opening Times
The World Heritage exhibition is open daily from 10.00 to 17.00. Admission is free!
Accessibility
The exhibition rooms and the palais itself are designed for visitors with limited mobility. A mobile ramp is available on the stairs at the entrance. An elevator and an accessible toilet are available.
Languages
German and English
Getting here
The Stralsund World Heritage exhibition is located at No. 1 in Ossenreyer Straße in the historic centre at the Old Market near the Town Hall.
Parking
In the summer months especially it is advisable to leave your car in one of the car parks on the edge of the historic centre.
Bus/Train
If you travel by train to Stralsund, leave the main station and walk for about 20 minutes towards the centre or alternatively take the Stralsund bus, line 1 or line 4 will take you to Olaf Palme Platz, located a few minutes from the Old Market.
Contact
Hanseatic City of Stralsund
World Heritage Exhibition
Ossenreyerstraße 1
18439 Stralsund
Telephone: 0049 3831 252 310
Email: sbehrendt@stralsund.de