World Heritage House Wismar
The World Heritage House Visitor Centre not only brings the long city history to life with its fascinating exhibitions, but is also in itself a testimony to different eras in Wismar.
The World Heritage Room on the ground floor is the introduction to the exhibition, from benches that mimic the length of the city wall, visitors can discover the inlay of the Wismar town plan beneath their feet. A World Heritage panorama with international examples of natural and cultural heritage is displayed on the walls and there are many listening stations where visitors can gain a wealth of knowledge.
There are special exhibition rooms with interactive tables centred around various themes such as 'Citizens building their city', 'Houses tell stories', "Rules shape this City', 'Trade brings Prosperity' and 'Merchants create the Dielenhaus'. The many original architectural remains on the walls and ceilings are equally part of the exhibition.
Picture Gallery (10 pictures)
The Wallpaper Room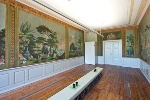 The visual highlight of the World Heritage House is the restored wallpaper room on the first floor.
The wallpaper narrative cycle depicts the mythological story 'The Travels of Telemachus on Calypso's Island'. The wallpaper was designed between 1815-1820 by the artist Xavier Mader for the Paris manufacturer Dufour & Leroy where it was designed and manufactured in 1823. The panorama is comprised of several assembled sheets of paper, on which layers of limewater colour are printed one on top of the other with the help of wooden moulds. In 1828 the then Mayor of Wismar Gabriel Lembke had this valuable wall decoration installed on the new residential floor.
Visitor information
Opening Times
April-September
Daily 09:00 to 17:00
October to March
Daily 10:00 to 16:00
Admission is free!
Languages
German and English
Getting here
The World Heritage House is located in the centre of Wismar's historic centre at 23 Lübsche Straße
Distance: train station 850 meters (11 minutes), ZOB (Bus Station) 900 metres (11 minute walk), Papen Straße Car Park/Historic Centre 300 metres (4 minutes).
Contact
Hanseatic City of Wismar
Office of World Heritage, Tourism and Culture
World Heritage House
Lübsche Straße 23
23966 Wismar
Phone: 03841 22 52 91 02
Fax: 03841 22 52 91 03